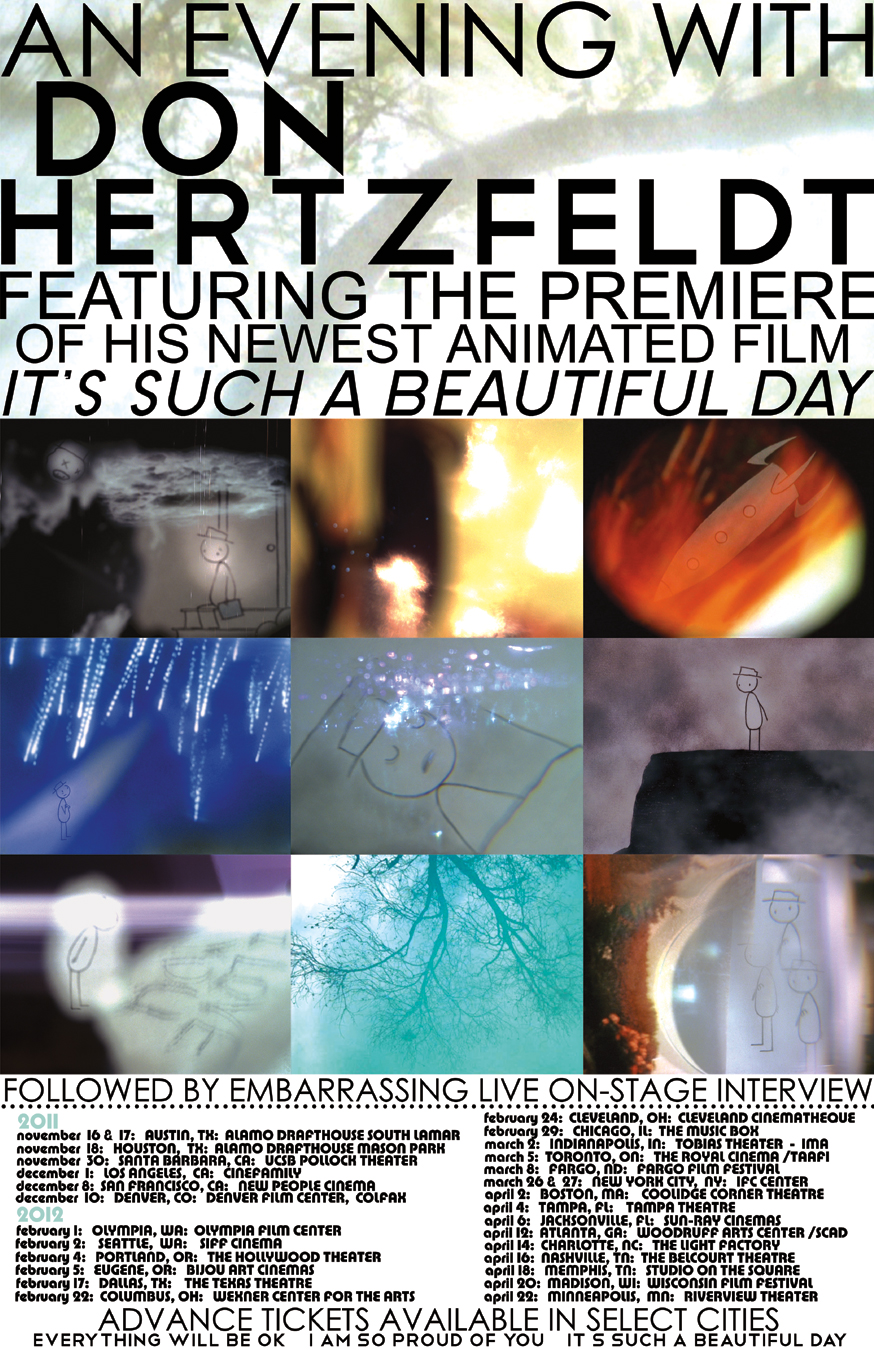 Cult animator and Academy Award nominee Don Hertzfeldt will make a one-night appearance in Memphis at the Studio on the Square at 7 pm, Wednesday, April 18.
The event, "An Evening With Don Hertzfeldt," is presented by Indie Memphis, the ArtsMemphis supported 501(c)3 non-profit organization which runs the annual Indie Memphis Film Festival, celebrating its 15th anniversary this November.
Advance tickets are available here for $10 plus service fees. Indie Memphis members may purchase their tickets at a $2 discount.
Hertzfeldt's Memphis visit is part of a nationwide theatrical tour in support of his latest film, the 23-minute "It's such a beautiful day," the third and final chapter in a trilogy about a mysterious man named Bill. In 2008 and 2009, Hertzfeldt went on a similar 22-city theatrical tour in support of the second chapter in the series, "I am so proud of you," which screened as part of the 2009 Indie Memphis Film Festival. The April 18 event is the tour's first stop in Memphis.
During "An Evening with Don Hertzfeldt," the entire animated trilogy will be screened together for the first time using new 35 mm prints, along with a selection of Hertzfeldt's earlier work. An on-stage interview and audience chat will immediately follow the screening.
Hertzfeldt, 36, is the creator of many short animated films, including the Academy Award-nominated "Rejected." His animated films have been presented around the world and have received more than 150 awards, including a Short Film Palm D'or nomination at the Cannes Film Festival ("Billy's Balloon"), the Sundance Film Festival's Jury Award in Short Filmmaking ("Everything will be OK"), and Best Picture and Best Screenplay from the Fargo Film Festival ("I am so proud of you"). Before the age of thirty, his films already were the subject of several career retrospectives.
Hertzfeldt was the youngest director named in the "They Shoot Pictures, Don't They" list of the "100 Important Animation Directors" of all time and. In 2010, he received the San Francisco International Film Festival's "Persistence of Vision" Lifetime Achievement Award at the age of 33.
The Indie Memphis Film Festival, nationally-ranked as one of the "25 Coolest Film Festivals" and "25 Best Film Festival Investments" by MovieMaker magazine, has set November 1 through November 4 as the date for this year's 15th annual festival. For 2012, Indie Memphis has added The Circuit Playhouse to its list of festival venues that also includes Playhouse on the Square, Malco Theatre's Studio on the Square, and the Dorothy K. Hohenberg Auditorium at the Memphis Brooks Museum of Art.